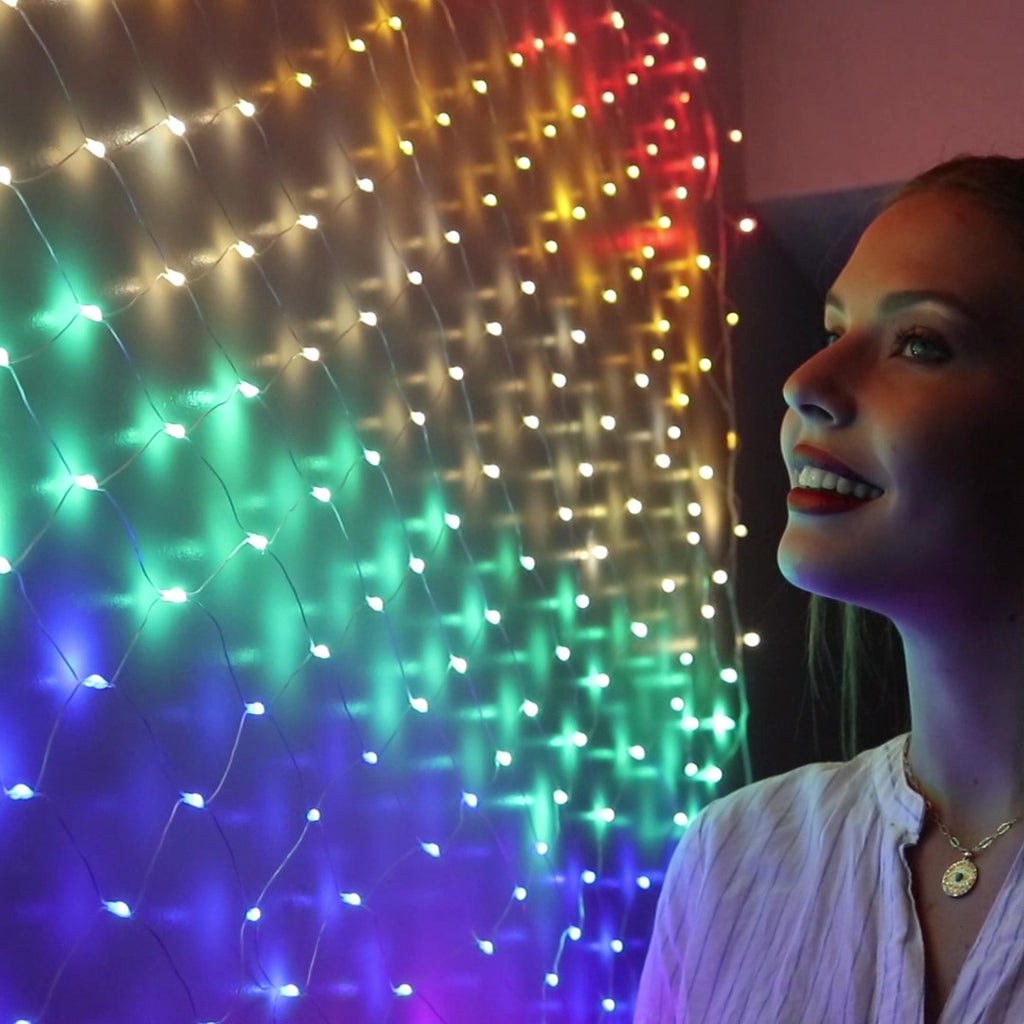 LED Rainbow Pride Flag
BFCM Sales Extended! Take an extra 15% off! Use Code BFCM. Free shipping at $70
Take your Pride to the ultimate level with this beautiful and super bright LED rainbow flag. Over 380 super-bright luminous and high-efficiency, colorful LEDs. This vibrant flag allows your Pride to soar to new heights both indoors and outdoors. 
Perfect for homes or apartments, Pride parades, Pride events, parties, music festivals, camping areas, social media videos, online streaming, DJ rooms or music studios, and many more occasions.
100% Weatherproof: resistant to changes in moisture, precipitation, temperature, and UV rays. Designed for outdoor durability. For both indoor or outdoor usage. The LEDs are guaranteed to last over 10,000 hours. Clear copper wireframe construction allows the flag to be seen from both sides.

Quick install. Takes only a few minutes. Hangs perfectly on walls or just about any surface. Size: 6.6 ft x 3.3 ft or 5.1 FT x 3.3 FT
Take your Pride to the ultimate level with this beautiful and super bright LED rainbow flag. Over 380 super-bright luminous and high-efficiency, colorful LEDs. This vibrant flag allows your Pride to soar to new heights both indoors and outdoors. 
Perfect for homes or apartments, Pride parades, Pride events, parties, music festivals, camping areas, social media videos, online streaming, DJ rooms or music studios, and many more occasions.
100% Weatherproof: resistant to changes in moisture, precipitation, temperature, and UV rays. Designed for outdoor durability. For both indoor or outdoor usage. The LEDs are guaranteed to last over 10,000 hours. Clear copper wireframe construction allows the flag to be seen from both sides.

Quick install. Takes only a few minutes. Hangs perfectly on walls or just about any surface. Size: 6.6 ft x 3.3 ft or 5.1 FT x 3.3 FT
Looks great!
Looks exactly as shown and very happy how it looks in my patio. Heads up if you are ordering from Canada, was charged import fees that were about the same price as the light so ended up doubling the cost.
Beautiful Flag
Absolutely amazing. I love this bright flag. I wish I had more places to hang others. It's very large and a great way to show your pride. It's lightweight and easy to hang. It's folded and packed very well, and it comes with hanging supplies.
Awesome!
Very beautiful and bright. I live on the third floor and it looks great!
So many compliments.
I love my new purchase! This flag is beautiful! Everyone that comes over loves it!
Awesome! Lights up very bright. 👍
Color: Rainbow- Red, Orange, Yellow, Green, Blue, Purple.
Body Material: High-quality copper wire and PVC.  Includes 380 Energy efficient, sturdy, and super bright colorful LED bulbs.
Power Source:  US Standard UL certified plug (110 Volts). Simple plug-in and out.
Size: 6.6ft x 3.3ft/2m x 1m or 5.1 FT x 3.3 FT/1.55m x 1m
--
--